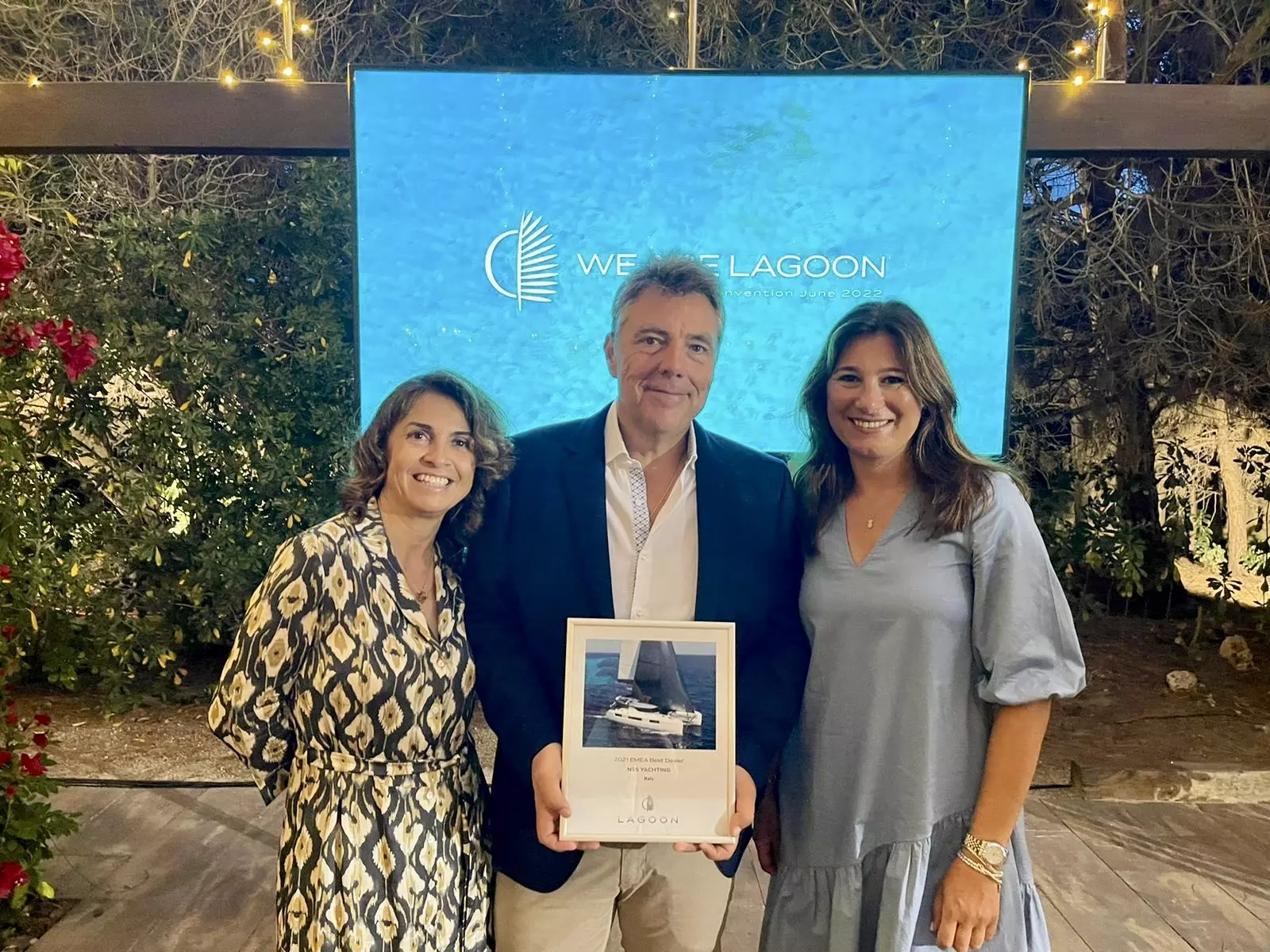 Barcelona - Simone Morelli, NSS Yachting Ceo, has won for the third year in a row the award by the Lagoon shipyard which crowns it as the first seller of catamarans in Europe.
Morelli, administrator of the NSS group and retired officer of the Navy, has been a dealer of the prestigious Lagoon brand since 2013, a leading international shipyard for the production of cruising catamarans from 12 to 24 meters.
«The cruise catamaran market is constantly expanding - explains Morelli - In recent years it has been the boat requested by yacht charter tourists for its more comfortable qualities but not only. Even many private sailor prefer it instead of the more traditional monohull. The catamaran, in fact, faces navigation in a relaxing and safe way and, in addition to its undisputed qualities of stability, it offers exceptional performance with reduced consumption».
The European Best Dealer awards ceremony took place in Barcelona, ​​Spain, during the Lagoon Convention and the start of the European Summer Tour of the new model produced by the shipyard, the Lagoon 51. The initiative includes a tour with stopovers in the main Mediterranean locations, as well as in Spain, in France and Italy where the most awaited stop will take place, that of Cala dei Sardi on the Costa Smeralda from 29 July to 1 August where the boat will be the protagonist of a shooting between the islands of Soffi and Mortorio in the Gulf of Cugnana.
«The large sales numbers of the Lagoon shipyard are the indicator of the quality and reliability of the brand - explains Simone Morelli - while as far as we are concerned we have been rewarded by the trust of our customers and it is above all thanks to the management programs that new owners choose the catamaran, a purchase formula that has proved successful in recent years ».
North Sardinia Sail, now NSS Group, was founded in 1998 in Sardinia as a charter company, initially with 7 sailing boats and based in Portisco. Then Simone Morelli created the Marina di Cala dei Sardi in the Gulf of Cugnana, an eco-sustainable oasis equipped with all the services dedicated to the yachtsman and to those who want to spend their boat holidays in total relaxation, as well as a strategic point to navigate among the coves of the Costa Smeralda, the Maddalena Archipelago up to the South of Corsica.
Today NSS is a leader both in the sale of catamarans and sailing boats and in nautical charter with a fleet of over 120 boats and bases in Sardinia in Cala dei Sardi, in Tuscany in Marina di Cala de Medici, in Campania on the Amalfi Coast, in Sicily in Portorosa, in the Balearic Islands in Mallorca and in the island of Grenada in the Caribbean. A solid reality that counts high level professionalism.